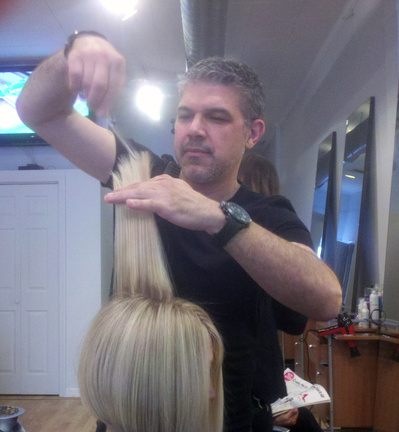 Jonathan Caputi is a talented, well-traveled hairstylist whose career, which began over 40 years ago in Canada, has taken him around the world. His work experience includes the U.S., Canada and England in cities such as Toronto Canada, London England, New York, Los Angeles, San Diego, Dallas, and Costa Mesa California.
His work experience includes several high profile salons in Toronto Canada such as the Daniel Galvin Salon where he served as Artistic Director, and as Senior Artistic Director for Premier in Toronto, Los Angeles, San Diego and Costa Mesa. He then relocated to New York for Elizabeth Arden Salons as a Core 1 educator. Currently, Jonathan owns and still operates Jonathan Salon in Red Bank, NJ.
He is also the co-writer of the Premier Hair Cutting System.
He has performed Hair Extensions for the Five under Forty Foundation who's mission is to provide funding for medical, wellness, and beauty services to women under the age of 40 that have been diagnosed with breast cancer, or have tested positive for the BRCA gene.

He has styled the tresses of Princess Diana, Sharon Case, Wendy Crewson, Super Model Estella Warren and Superstar Belinda Carlisle of the Go Go's. He has an amazing ability to translate runway to real way to fit the environment of the everyday lifestyle of the American woman.
In early 2006, the Monmouth County Voice Magazine named him one of the people of the year.
His work has graced the covers of magazines both in Canada and the united States, such as Wedding Bells, NJ Bride, Studio, Salon Magazine, Prime Woman NJ, and he has been featured and recognized in over 50 magazine and newspaper publications including W magazine, Los Angeles Times, Womans Day NY, Flare (Canada), Élan NY and Bella NYC. As well he has appeared on several Make-over television segments in New York, Toronto and Southern California. His T.V. appearances include Eye on Toronto, City T.V. Canada and News 12 New York make over segments.

He has developed Urban Design his own hair product line which included over 30 hair care and styling products.
Jonathan has been actively involved in charity work for anyone he comes across who is in need. He has been involved in raising money for Parkinson's, Cancer research, Collier House in Red Bank NJ and as of January 2007 he has become a very proud supporter of St Jude Children's Hospital in Memphis TN.